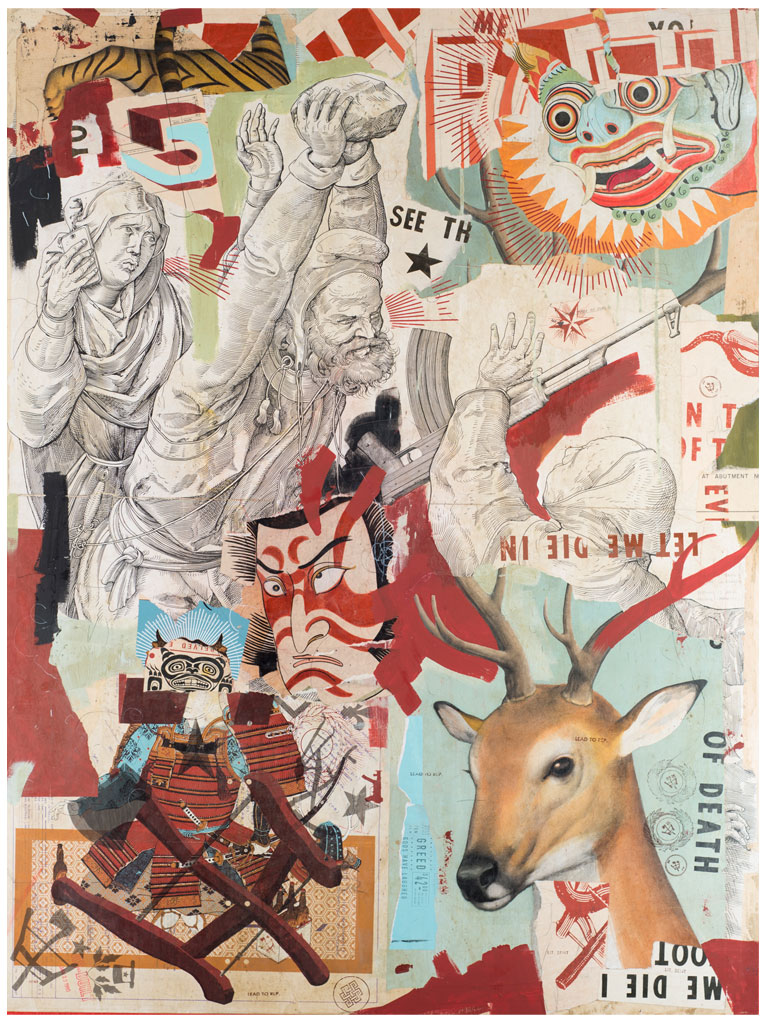 Context – Art Miami
December 1st-6th
Ravi Zupa (United States)
Martin Whatson (Norway)
Hari & Deepti (India)
Ben Eine (United Kingdom/United States)
Snik (United Kingdom)
Alexis Diaz (Puerto Rico)
Sergio Garcia (United States)
Black Book Gallery
Booth CTX33
The CONTEXT | Art Miami Pavilion
Midtown | Wynwood Arts District
2901 NE 1st Avenue
Miami, FL 33137
CONTACT BLACK BOOK GALLERY FOR INFORMATION ON AVAILABLE ARTWORK
http://www.blackbookgallery.com/context-art-miami-2015/
Black Book Gallery is exhibiting at Context Art Miami December 1­6, 2015. This is the gallery's third year exhibiting in Miami during Art Basel week and first time exhibiting at Context Art Miami. The gallery will be presenting a mini solo exhibition of new works from Denver artist Ravi Zupa alongside a handful of very talented artists from around the world including Martin Whatson, Ben Eine, Snik, Alexis Diaz, Hari & Deepti and Sergio Garcia.
Demand for Ravi Zupa's work continues to grow. His year began with a sold out show at Black Book Gallery with work being acquired by several prominent private collections. He also participated in several group exhibitions throughout the U.S., Canada and Europe including two museum exhibitions.
For his exhibit at Context Art Miami entitled, "What Have We Learned So Far?" Zupa has created a body of nine new paintings and seven new "Mightier Than" sculptures. As always, the imagery within each painting is richly varied with references to multiple movements throughout art history and as always the images are entirely created by Zupa himself.
From Ravi Zupa:
WHAT HAVE WE LEARNED SO FAR?
As each movement in art develops, new artists (as well as viewers) tend to have a strange unconscious idea that this new development represents the most sophisticated and best version of art. Just like young school children who look at fashion from generations prior and laugh. It seems to them that earlier societies had somehow gotten fashion wrong. And that, we in this era have figured out the right answer to the question "What should people wear?" But each of these different aesthetics, processes and traditions were valuable in ways that others are not. A crude ancient Aztec codec for example can produce an effect inside the body and mind of a viewer wholly different from that of a photo realistic portrait from the 19th Century and both are wonderful and valuable. I seek to integrate some of these different methods of depiction and ask the question, What have we learned so far?
It has also been a goal of mine for many years to take my controlled detailed work (inspired by classical painters, printmakers, thangka tapestries and so on) and find graceful ways of integrating that control with the chaotic expressiveness of abstraction (inspired by artists like Twombly, Basquiat and Rauschenberg). In the last year, I have made great advances in this endeavor. Again, I look back and ask, what have I learned so far? ­- Ravi Zupa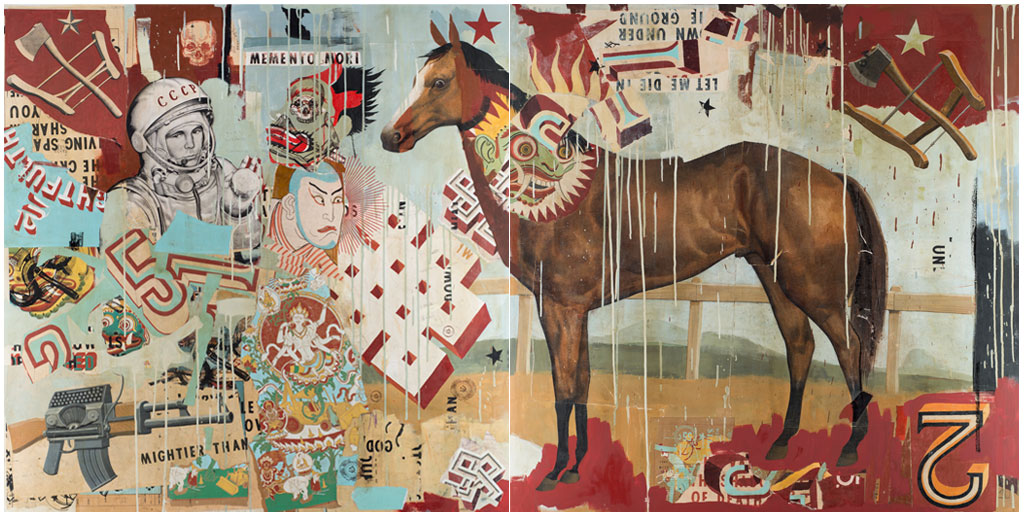 In combination with the paintings Ravi Zupa has created a new group of "Mightier Than" typewriter machine guns. Black Book Gallery unveiled a handful of these sculptures at last year's Scope Miami Fair and the response from viewers and collectors was overwhelming.
Because the "firearms" look so convincing some people ask if they actually fire (which they do not). Their appearance is also so striking that they recently garnered the attention of law enforcement. While crating the new "Mightier Than" works for shipment to Miami, Black Book was approached by police officers responding to a call by a neighbor concerned about potential "gun running".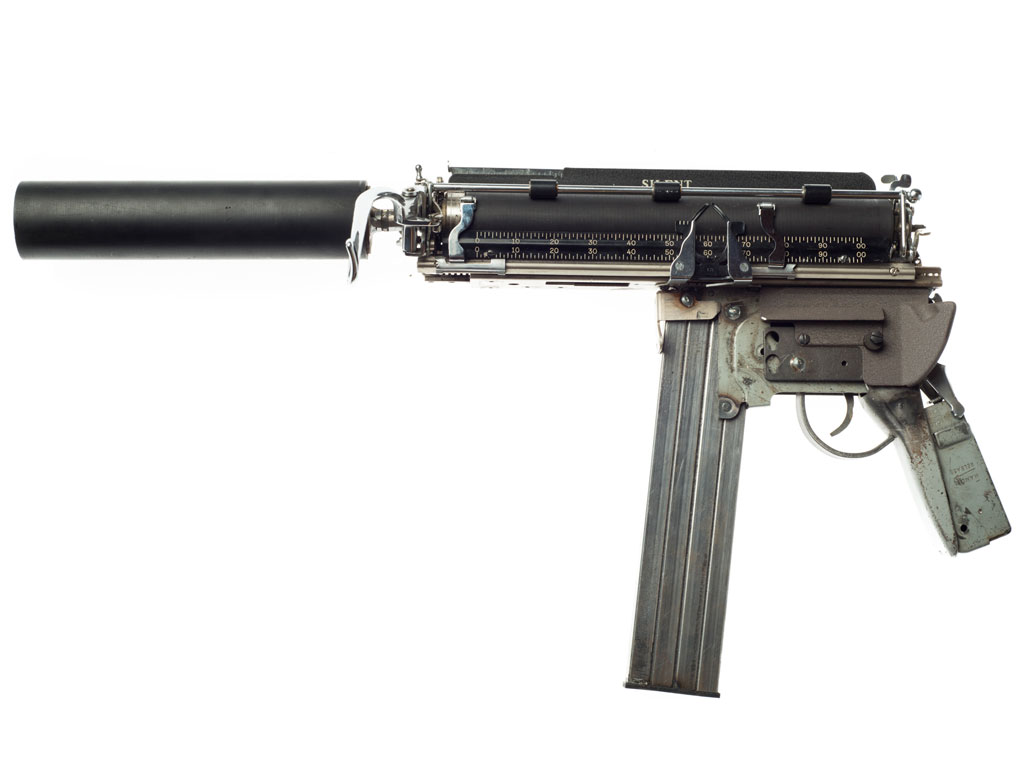 About the "Mightier Than" Series
Each piece is constructed, primarily from disassembled antique typewriters. There are also stapler components and some scrap metal. Everything is held together with welds, bolts and rivets. The stocks and wooden handles are all shaped from salvaged oak. The ammunition is comprised of Speedball pen nibs and used bullet cartridges of various sizes. The pen nib points of the 223 and smaller are pressure fit into the neck of the cartridge and the nibs of the larger caliber casings are pressure fit and held into place with a section of a standard number 2 pencil. Each cartridge is laser etched with the artist's signature, plow and scythe symbol.