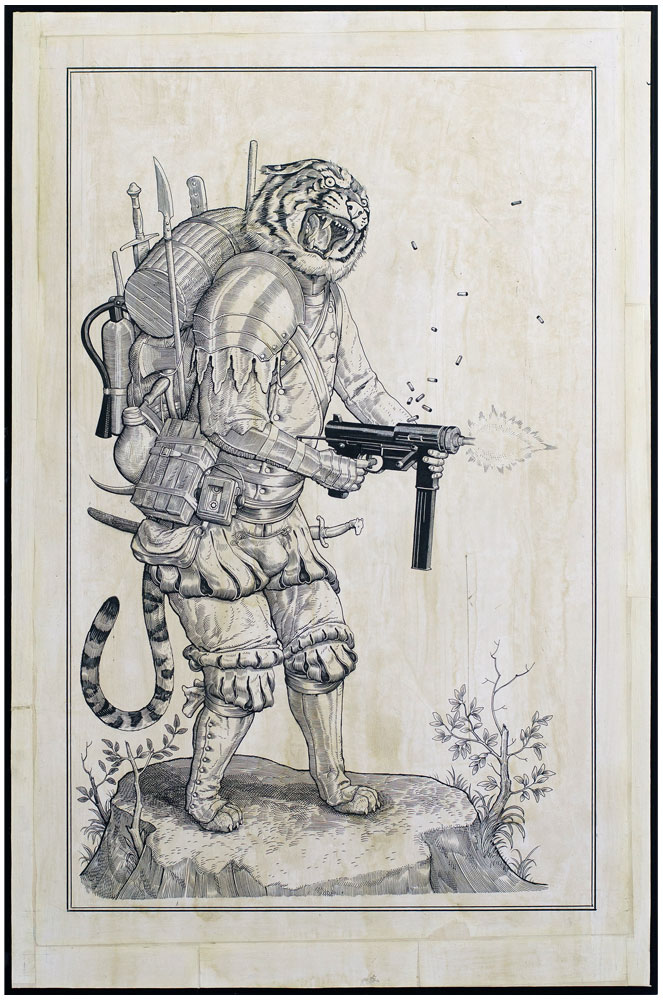 STRIKE EVERYWHERE
New works by Ravi Zupa
Black Book Gallery
304 Elati St
Denver, CO 80223
www.BlackBookGallery.com

Opening Reception:
Saturday, March 19th 2016
6-10pm
Artist in attendance
Free & Open to the public
Exhibit runs March 19th – April 9th
Contact Black Book Gallery for a preview of available artwork.

Black Book Gallery is excited to announce the annual return of Denver artist Ravi Zupa for his upcoming solo show titled "Strike Everywhere". The title of the exhibit is a reference to a new series of work and an apt way to describe Ravi's overall creative process. What set's Ravi apart from many artists is his ability to utilize a variety of traditional and unique methods to create his artwork. A quote from Shepard Fairey conveys this well: "I see a lot of great art, but as an artist with an astounding command of a broad range of techniques and aesthetics, Ravi Zupa is a rare find. Ravi demonstrates mastery in a renaissance painting style, collage, printmaking, and drawing. The rich fusion of techniques in his work could be presumed to be appropriation, but it is not… all of the elements were rendered by Ravi."
In this exhibit Ravi's entire range of abilities will be incorporated into several cohesive series showcasing his artistic and creative processes.
The "Mightier Than" series of firearms constructed from disassembled antique typewriters, continues to gain recognition and attention from people around the world. In this series Ravi has created a visual and mental stimulant to illicit a wide range of responses from viewers. While on display during Art Basel Miami last December they attracted the attention of art collectors, gun enthusiasts, scholars, musicians and many critiques both positive and negative. Ravi feels that pushing people to reconsider a weapon born into violence as a piece of art carrying a positive influence is very relevant across the entire world.
Another body of work Ravi continues to develop is the "Opposable Thumbs" Series featuring animals portrayed engaging in human activities that specifically involve weapons, hunting, exploration, and sport. However, the only human characteristic of these figures is the five digit human hand. In a time when animal and human interaction is at its highest, we experience a wide range of outcomes. Now more than ever, animals and their intellectual abilities are being considered in regards to their similarities in humans. The characters in this ongoing series are perfect examples of these interactions and relations. Zupa has created many pieces in this series, the ones displayed in this exhibit are in a larger format which allows for even more intricate detail. There will also be a limited edition large format print featuring one of the new works.
In addition to new pieces in his "Mightier Than" and "Opposable Thumbs" series Zupa is introducing two new body's of work for this exhibition.
"Strike Everywhere" is a collaboration with Arna Miller inspired by the art that decorated early match boxes. These old boxes featured all manner of odd subject matter. Zupa employs the iconic skeleton style of Mexico's Jose Posada to depict scenes of current social and political importance. Police violence, the justice system, income inequality, abuses by the finical sector and so on. The images are relief prints carved from ordinary, orange, traffic cones and printed on an antique printing press, the text was then added with screen printing.
"Age Of Enlightenment" is a new series which features original drawings in the style of religious and alchemical arts from the middle ages and renaissance. Zupa has chosen to emulate artists with a range of techniques both sophisticated and crude and the subject matter reflects a similar range of ideas and themes. Sometimes unsettling, sometimes light, often mysterious, they depict odd scenes combining characters from the ancient world, mythological creatures and ordinary objects of our modern life.
Contact gallery with interview requests at info@blackbookgallery.com or 303-941-2458
Shepard Fairey quote from ObeyGiant.com 2013
Black Book Gallery
304 Elati St.
Denver, CO 80223
303-941-2458
info@blackbookgallery.com